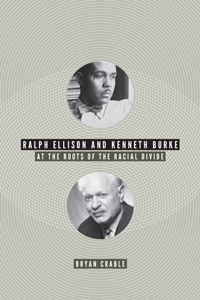 Crable, Bryan. Ralph Ellison and Kenneth Burke: At the Roots of the Racial Divide. Charlottesville: U of Virginia P, 2012.
Tyler Branson, Sharon A. Harris, Tom Jesse, and Joel Overall, Texas Christian University
Ralph Ellison once said in an interview that he chooses not to recognize a distinct "white" culture: "I recognize no American culture," he said, "which is not the partial creation of black people" (McPherson 174). Ellison thus rejected the separation of "black culture" from a more general "American" culture. And this "fundamental hybridity" (Stephens 119) embodied in Ellison's work is what, according to Bryan Crable, links him with Kenneth Burke. Ralph Ellison and Kenneth Burke: At the Roots of the Racial Divide highlights how the personal relationship between the two men embodies a "distinctly American" conversation, one in which discomfort, silence, distance, and awkwardness represent building blocks of a new kind of "transformative discourse" which more accurately counters the prevailing and stifling dialogue on race in America.
In Chapter 1, Crable investigates why, given their biographical and intellectual alignment (45), Ellison's fan-letter to Burke—in which he said he was "indebted" to Burke's theories—was met with "awkward distance" and reticence (3). Crable writes that Burke's "discomfort" with Ellison's praise and identification indicates the larger "awkward conversation" developing around race in America, the "antagonistic cooperation . . . that has long characterized the relationship between blacks and whites" (5).
In the book's second chapter, Crable frames his discussion of the brief correspondence between Burke and Ellison around a central paradox. The chapter's title—"Antagonistic Cooperation"—borrows from Ellison's comments on the challenges of maintaining friendships between writers (46), but Crable shifts here from personal history to textual analysis in an effort to demonstrate how the long silences and unresolved tensions present in their "ongoing dialogue had helped [Burke and Ellison] create some of their most celebrated works" (78).
Over a series of five documents—Ellison's 1945 essay "Richard Wright's Blues," three letters written between 1945 and 1946, and the published text of A Rhetoric of Motives in 1950—Crable details the countervailing approaches to race each man would develop in conjunction with but wholly separate from the work of his peer. The on-again, off-again correspondence between Burke and Ellison becomes, paradoxically, one of the most important and most consistent influences in the development of both thinkers' attitudes toward racial identity, privilege, and justice (64). As both men struggle to find the right words to express their early positions on race in America, each converts this lack into an excess by exploiting the "motive force" inherent in language that compels "man to transcend the 'state of nature'" (Burke 192). This force enables Burke to develop his terminological hierarchy (moving from positive to dialectic to ultimate vocabularies) in the Rhetoric and motivates Ellison to create the character "Invisible" who comes to embrace "a more complex set of coordinates" regarding "the symbolic constitution of reality" (Crable 93).
The same "drive for transcendence" (75) that Burke felt Ellison missed in his 1945 review of Richard Wright's Black Boy becomes a major concept in the final section of the Rhetoric, and through his detailed readings of the five documents featured in Chapter 2, Crable constructs a convincing case that "Burke's Rhetoric constitutes a significant treatment of race, one developed in response to Ellison" (76, emphasis added). And though, at times, the focus veers so sharply from Ellison to Burke and back again that the finer points of Crable's analysis get a bit muddied, there can be no denying that the paradox inherent in the relationship between these men—the formative correspondence that had no coherent form; the substantial sharing that lacked consistent substance—produced transformative results in the works each published from 1950 onward.
This paradox, embodied by disconnected correspondence and inconsistency, manifests itself particularly in Burke's response (or lack thereof) to Ellison's Invisible Man in 1952. In Chapter 3, Crable argues that while many scholars have highlighted the Burkean structure of Invisible Man, few have adequately placed it within the context of Burke and Ellison's relationship with one another. Examining private letters between Burke, Ellison, and their mutual friend Stanley Hyman, Crable demonstrates how Burke deliberately refused to comment on or even read Invisible Man for years after it was released in 1952, despite Ellison's letters of praise and the fact that Invisible Man is so very clearly Burkean in its "comic consciousness" (101). Crable writes, "When we consider that this book was initially dedicated to Burke, this admission is simply astonishing" (105). Burke, jealous of the quick rise in fame of Ellison and of the success of Invisible Man in particular, was unable to see the useful adaptation of his own theories into a valuable counter-statement (98). Thus, Burke's 1985 essay on Ellison, "Ralph Ellison's Trueblooded Bildungsroman," is not simply a friendly meditation thirty years later, but a manifestation of the response that Burke never wrote to Ellison, the letter of approval that Ellison so desperately wanted but never received (110). Crable also shows that merely noting the linkages between Burkean concepts and Ellison's Invisible Man is by itself is not enough: we need to look deeper into the context of their own relationship, at the acceptance and rejection--or the "tragic grammar" of purpose, passion, and perception between them--in order to visualize an "ultimate vocabulary" for better understanding and combating America's racial divide.
Before we can arrive at this vocabulary, however, Crable feels that the issue of Burke's own personal attitudes on race need to be addressed. Chapter 4 ("Was Kenneth Burke a Racist?") contests other scholars'—especially Beth Eddy's and Donald Pease's—simplistic denunciations of Burke as a racist and argues for a more nuanced view of Burke's and Ellison's disagreements on race. To achieve this, Crable constructs a holistic context from little-used archives. As in other chapters, Crable assembles evidence from published and unpublished correspondence between Burke, Ellison, and others, as well as critical works by both men to address the central argument of his book: Although his own position within a white cultural milieu rendered him incapable of transcending a dialectical terminology, Burke provided Ellison with the model for creating a vocabulary to address race as an irreducible element of humankind. More importantly, Crable's analysis of the theme of race in Burke's letters to Ellison and others from the 1940s through the 1960s reveals Burke's habitual framing of race as a binary—a "unified whiteness . . . whose sole other was the black American" (132). The consistency of Burke's dualistic view of race is perhaps Crable's greatest contribution to scholarship on Burke and Ellison, a portrayal all the more unsettling because Burke—the quintessential observer of linguistic practice—appears at times unconscious of the terministic screens with which he conveys the duality.
Inasmuch as their correspondence reveals Ellison's desire for Burke's affirmation and counsel, Burke can only offer Marxist terminology as an admittedly temporary and unsatisfying way for "minorities to transcend social conflict" (135). Burke himself is unable to envision "the possibility of an ultimate vocabulary of race" (135). However, Ellison understood the origins of racial identity in ways that Burke could not, and, building upon Burke's theory, Ellison projects "a more complex, ultimate vocabulary which would treat race as central to the question of human existence, thus providing a vision of true cooperation to replace wins and losses inherent in the dialectical order" (136). The transcendent order of vocabulary Ellison envisioned would probe the foundations of American racial identity in ways that Burke could theorize but not articulate beyond the terministic screens warranting race as a binary circumstance of American culture. However much Burke and Ellison, the individuals, may have yearned for equilibrium within and between their cultural scenes, Crable writes, only a conscious union of their vocabularies offers a new discourse on race.
From the introduction, Crable claims his book provides "important intellectual resources for the critique of [the] racial binary" (6), and in Chapter 5, Crable most fully details these resources. By combining Burke's theoretical description of an ultimate vocabulary with Ellison's enactment of this theory in his often-overlooked nonfiction, we can more effectively critique the racial binary. Some readers might have expected Crable to delve into Ellison's posthumously published fiction (Juneteenth and Three Days before the Shooting…) in this final chapter, but instead, Crable argues Ellison's nonfiction more fully envisions "a nondialectical approach to the analysis of race" (138). While readers might prefer to know in which nonfiction essays Ellison articulates this nondialectical approach to race, Crable chooses instead to treat the works of nonfiction as a unified body of thought. For the most part, this strategy works, though a few dates to help trace the evolution of Ellison's thoughts might have been helpful. Nevertheless, Crable delivers a clear articulation of "the central arguments and insights of an Ellisonian rhetorical theory of race and identity" (214).
Crable details a comprehensively Ellisonian and Burkean rhetoric of race by first confronting the fantasy of racial purity within the positive and dialectical orders of current racial vocabulary. While Crable claims Burke was blinded by his own whiteness, he describes how Ellison rejected a dialectical vocabulary of race and adopted an ultimate vocabulary that unified black and white races. Though Ellison was unable to fully transcend the dialectical order of race, Crable pushes Ellison's insights further to "move closer to the ultimate account of race" (150). By acknowledging race as "a concept which signifies and symbolizes social conflicts and interests by referring to different types of human bodies" (159), Crable argues that the racial divide too often relies primarily on dialectical symbolism, which can be divorced from the natural, biological world. In arguing for transcendence into the ultimate order, Ralph Ellison and Kenneth Burke: At the Roots of the Racial Divide continues the process of regrounding the racial dichotomy in nature and bodies and compelling us to take responsibility for both our social and symbolic acts.
* Tyler Branson is a PhD Student in Rhetoric and Composition at TCU. He can be reached via email at tyler.branson@tcu.edu
* Sharon A. Harris is a PhD Candidate in Rhetoric and Composition at TCU. She can be reached via email at s.a.harris@tcu.edu
* Tom Jesse is a PhD Student in 20th Century American Literature at TCU. He can be reached via email at t.jesse@tcu.edu
* Joel Overall is a PhD Candidate in Rhetoric and Composition at TCU. He can be reached via email at joel.overall@tcu.edu
Works Cited
Burke, Kenneth. A Rhetoric of Motives. 1950. Berkeley: U of California P, 1969. Print.
McPherson, James. "Indivisible Man." Ed. Maryemma Graham and Amritjit Singh. Conversations with Ralph Ellison. Jackson: U of Mississippi P, 1995. 173-191. Print.
Stephens, Gregory. On Racial Frontiers: The New Culture of Frederick Douglass, Ralph Ellison, and Bob Marley. Cambridge: Cambridge UP, 1999. Print

"A Note from the Editors" by Paul Lynch and Nathaniel Rivers is licensed under a Creative Commons Attribution-NonCommercial-ShareAlike 3.0 Unported License.